Pet Boarding Pricing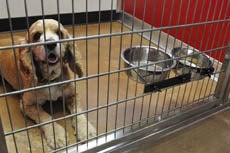 At SOCO Pet Lounge, your pet will enjoy a total experience. Whether they come for a play date with friends, or a weekend getaway to lounge around, they will be begging for more. Our dedicated Lounge Hosts will care for your pet as if they were their own. We give each dog specialized attention for their particular needs and personality and have created an environment that caters to their natural instincts. You leave 'em, we'll lounge 'em!
Veterinarians nearby…
Thanks to our partnership with Capital Veterinary Clinic (located just across the street), you will have the added benefit of knowing that if your animal experiences any illness while you're away, it will be promptly and competently addressed by one of their clinicians. Capital Veterinary Clinic can also provide your pet with routine vaccinations while your pet is in our care (depending on type and length of stay as some restrictions may apply).
For a tour of our boarding facilities, please feel free to drop by anytime during business hours. All owners must complete a Lounge Guest Agreement prior to or at the time of their pet's first stay with us.
Please keep in mind all pets over the age of 8 months must be spayed or neutered in order to stay with us. Additionally, pets must have completed all rounds of puppy or kitten vaccinations and be current on all required shots prior to their first stay. Please see our Guest Agreement for details.
Lounge Pricing- All of our overnight canine guests receive at least three, 20-30 minute group play sessions each day as a part of their stay, which is included in the pricing shown for boarding. Dogs requiring separation from group play will be charged an additional fee per day for one on one playtime.
Studio Lounges – $60
Urban Lounges – $65
Patio Lounges – $70
Suite Lounge – $70
Cat Lounge – $50
When your dogs share a lounge space, you save. Any additional dogs in the same space will receive $5 off the boarding price. Multiple cats in the same lounge space will pay the original price as it requires the use of multiple units to accommodate them.
Studio Lounges- Studio Lounges provide a comfortable and cozy resting place for any dog drawn to the security, intimacy and privacy of a den-like setting. A Studio Lounge minimizes anxiety causing empty space and is ideal for dogs looking to retreat and nest after a day of play and social interaction.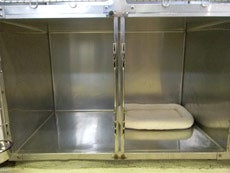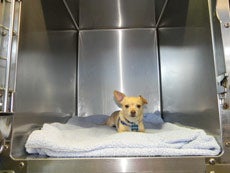 Urban Lounges-Urban Lounges are free standing spaces designed for our more social dogs, especially the larger ones – dogs with big personalities that need less privacy to feel comfortable, and prefer openness to enjoy their surroundings. Urban Lounges are ideal for dogs wanting to stretch out and enjoy all the sights and sounds of their urban den community.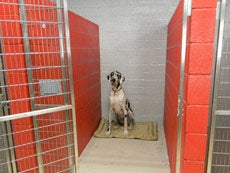 Patio Lounges- Patio Lounges offer all the indoor amenities of our Urban Lounges, but also include their own private covered outdoor "patio" run. Patio Lounges are designed to provide the ultimate indoor/ outdoor experience for our most social dogs, even the larger ones – so they can enjoy all that their SOCO Pet Lounge environment can offer. Of course, Patio Lounges can also shut out the outside world, via the individual sliding dog door, so our guests can enjoy a relaxing snooze or curl up for the night.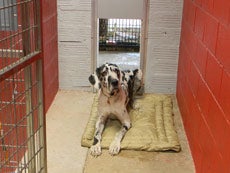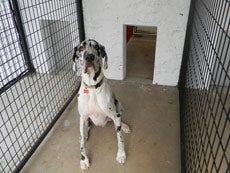 Suite Lounge- Our Suite Lounge is exactly what it sounds like, an exclusive private suite within our community. The Suite Lounge was designed to provide our guests the ultimate in private, quiet comfort with plenty of space to boot. For those dogs who enjoy seclusion, privacy and space, or even those looking to hang out in a private room with other canine family and friends, the Suite Lounge is the place to be. The Suite Lounge is also equipped with an elevated dog "bunk" bed with plush bedding for extra comfort and a flat screen TV/DVD player for private screenings of their favorite flics.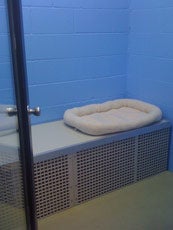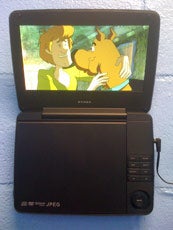 Cat Lounges- Our Cat Lounges provide even the most finicky of our feline guests a private, spacious yet cozy den with multiple great places to curl up and purr or even pounce on a fluffy family member. Our luxurious Cat Lounges can even be opened up to reveal a larger space for your kitty to roam by allowing access into multiple lounges, upon request.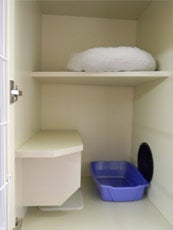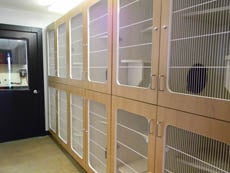 Check Out- Boarding fees will be charged per night of your pets stay regardless of the time admitted. Pets picked up after 11am on Monday through Friday will be charged a half-day of Daycare in addition to the Boarding fees. On Saturday and Sunday, pets not picked up during business hours will be charged an additional night of Boarding. Pets must be picked up during normal business hours as we are unable to discharge pets after hours.